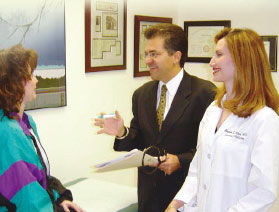 Treatment & Services
Alamo Medical Clinic proudly serves
nearly 12,000 patients annually
We are located in Henderson, Nevada; serving the greater Las Vegas area. At Alamo Medical Clinic, you can rely on industry leading physicians and a caring staff that have your best care in mind. We offer the following medical treatments and services:
Medical Care
Accepting most major insurances

Convenient on-site diagnostic facilities including laboratory, X-ray, treadmill stress testing, ultrasounds and more
Same day appointments available
Mens & Womens Health Care
Adult Family Care
Physical Exams
Physical Therapy
Preventive Care
Medical Services
Phlebotomy
Nebulizer Therapies
Expedited Lab Results
X-rays
Injections
Medical Tesing
ALCAT Food Allergy/Sensitivity Testing
Cardio Treadmill Testing
Cardiac Echo
Ultra Sound Testing
Blood Tests
Dermatology
Ear Lavage
Along with the best in treatment, testing and services, Alamo Medical Clinic is dedicated to providing you and your family with compassionate, quality primary medical care. Please visit our contact page for location and scheduling information.